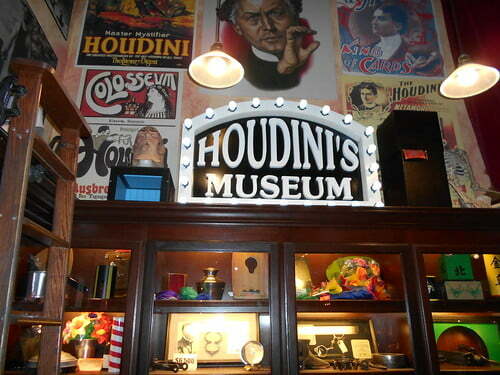 Top 6 attractions to see in Clarks Summit, Pennsylvania
Rich in history and surrounded by natural beauty, Clarks Summit, Pennsylvania, is considered one of the best places to live in northern Pennsylvania. From fun family activities to fine dining, there are plenty of things to do and see around our beautiful area. Whether you live here full time or are here on vacation, enjoy these six top attractions around Clarks Summit.
Houdini Museum & Magic Show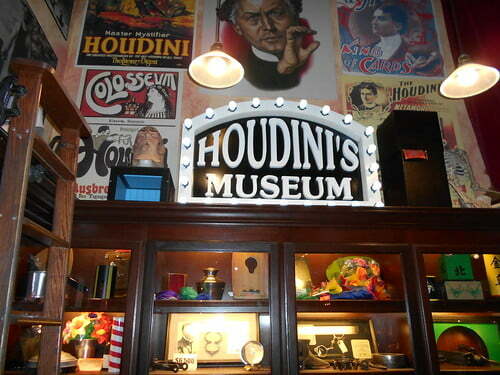 "Houdini's Museum" licensed under CC BY-SA 2.0 via Flickr by Mario RM
If you're intrigued by magic and illusion, you'll want to plan a visit to the Houdini Museum & Magic Show. This special place is dedicated to magician Harry Houdini, who brought spellbinding magic tricks and illusions to audiences from 1891 to 1926. Houdini, whose real name was Erik Weisz, was mostly known for his brazen escape acts from chains, ropes, and handcuffs.
When you visit the Houdini Museum & Magic Show, you'll see a movie that captures rare footage of some of his escape acts, get a guided tour of the museum and see artifacts from his performances, and see a one-hour magic show performed by renowned magicians Dorothy Dietrich and Dick Brooks.
Location:1433 N. Main Ave. in Scranton
Telephone: 570-342-5555
Elk Mountain Ski Resort
Enjoy downhill skiing and snowboarding for a day or weekend at Elk Mountain Ski Resort. Elk Mountain features over 180 acres of skiable terrain with 27 trails designed for all ski levels. If you're a beginning skier, take advantage of the ski school where professional instructors can help children and adults master this winter sport.
If you want to become a better skier or snowboarder, you can take part in advanced ski programs for adults or kids. During the duration of the nearly six-week program, you'll ski and train with the same coaches who help provide continuity throughout the training process.
After a fun day of swooshing down the slopes, or when you need to refuel, stop by the Winter Garden Cafe for hot soup, creative sandwiches, and craft cocktails. Or, grab a slice of pizza and a cup of hot cocoa at Elk Mountain Cafeteria.
Location: 344 Elk Mountain Road in Union Dale
Telephone: 510-679-4400
Steamtown National Historic Site
Both train buffs and those interested in how the building of the railroads helped connect the United States will enjoy visiting the Steamtown National Historic Site. When visiting this industrial heritage site, you'll learn how the steam railroad system helped to shape the Industrial Revolution.
You can take a self-guided tour, starting in the movie room where you'll see the 18-minute film, "Steel and Steam." Next, browse the museum to see photos and artifacts related to steam trains. To get the most out of your experience at this historic site, take a guided tour where the park rangers will take you to the Steamtown Locomotive Repair Shop, where you can see how the engines of these mighty trains worked. After touring the Steamtown National Historic Site, be sure to stop by the gift shop to find train-themed souvenirs or gifts to bring home.
Location: 350 Cliff St. in Scranton
Telephone: 570-341-5200
Lahey Family Fun Park
Open year-round, the Lahey Family Fun Park has something exciting for all ages. Aspiring baseball players can hone their skills in batting cages. These cages come in different sizes with personalized speed levels depending on your needs. Bring the whole family or a group to Lahey Family Fun Park for a rousing game of mini-golf. With 36 holes spread over 2 acres plus five waterfalls and seven fast-flowing streams, you can spend the entire day batting the golf ball around in a stunning setting.
Additional activities include go-karts and bumper boats for the thrill-seekers in your group. If you just want to stay inside, saunter over to the brand new arcade that has video and redemption games where you can win amazing prizes. When you get hungry after so much fun activity, stop by the cafe for items like pizza, chicken nuggets, and ice-cold sodas.
Location: 500 Morgan Highway in Clarks Summit
Telephone: 570-586-5699
Alter House Restaurant
Treat yourself and your family to a farm-to-table dining experience when you book a table at the Alter House Restaurant. The chefs at this local restaurant use seasonal farm-fresh produce, local meats, dairy, and eggs for their innovative dishes that are served in a warm and relaxing atmosphere.
Enjoy a glass of fine wine or handcrafted cocktail with your meal that includes small plates like pan-seared dayboat scallops. Savor the wood-fired flatbreads with exotic toppings like duck confit. On a warm afternoon, have a refreshing salad made with produce grown on local farms. Entrees include wood-fired grilled prime pork chops, pan-seared duck breast, or the Buddha bowl filled with grains and vegetables.
Location: 926 Lackawanna Trail in Clarks Summit
Telephone: 570-319-6665
Lackawanna State Park
Surrounded by stunning northeastern Pennsylvania scenery, the 1,445-acre Lackawanna State Park offers visitors abundant recreational activities all year long. One of the highlights of this park is the 198-acre Lackawanna Lake, where you can fish, swim, and boat during the summer. During the winter, you can hike, snowshoe, or cross-country ski on the miles of trails that surround the lake and wind through the forest. The park holds special events such as the winter solstice hike or bird-watching tours.
Location: 1839 N Abington Road in North Abington Township
Telephone: 570-945-3239
As you can see from this list that our team at Northeastern Eye Institute has put together, there are plenty of attractions and other things to see and do throughout Clarks Summit. Which of these cool places did you enjoy visiting the most and why? Did we miss any Clarks Summit locations that you'd like to recommend? If so, please let us know, and we'll add it to our list.
The Northeastern Eye Institute provides general and specialized eye care for eye health and vision. If you live in the Scranton area, it's a breeze to schedule an appointment for any of our eye care exams or services. Our professional team is ready to assist you with high-quality eye care.