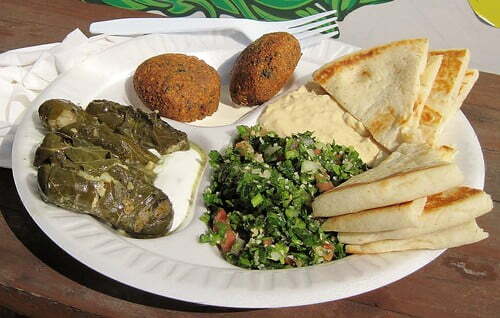 Best restaurants to try in Clarks Summit, PA
Located in the northeastern part of Pennsylvania about 30 miles northeast of Wilkes-Barre, the tiny town of Clarks Summit doesn't even take up 2 square miles of space. Don't let its small size, however, discourage you from searching for a great restaurant within its limits. Clarks Summit has several quality restaurant options, regardless of whether you're in the mood for Mediterranean or Italian cuisine, American fare, or a New York-style pizza. The next time you're in town, visit one of the following restaurants for a satisfying and wholesome meal.
The New Cafe
829 Old State Road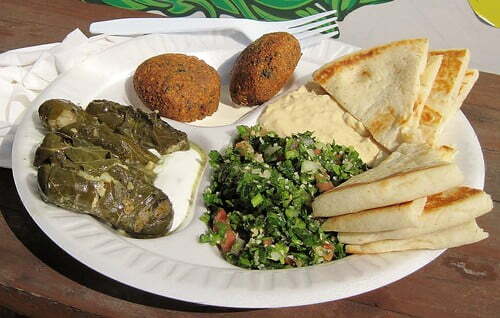 "Vegetarian Platter" licensed under CC BY 2.0 via Flickr by SaucyGlo
A contemporary Mediterranean restaurant, The New Cafe sits in Greystone Gardens. In 2016, the restaurant moved from its old location in Scranton, where it was known as City Cafe, to its current spot next to the garden center. It combines its Mediterranean cuisine with contemporary options, including many vegan and vegetarian dishes. The restaurant is open Wednesday through Saturday for lunch from 11 a.m. until 3 p.m. and for dinner from 5 until 9 p.m.
For lunch, consider ordering one of The New Cafe's numerous appetizers, including spanakopita, roasted beets, and spinach pies. If you can't decide what you want to try, order the popular tasting platter, which features hummus, baba ghanouj, muhammara walnut dip, grape leaves, falafel, and olives. Consider the vegetarian Moroccan stew, chicken kabob, falafel wrap, or grilled eggplant panini.
If you visit the restaurant for dinner, try one of the many fish dishes comprising wild cod, salmon, halibut, and Chilean sea bass. If you want something comforting, order the Lebanese rice, farro risotto, or stuffed eggplant. Other options include a 16-ounce New York strip steak, lamb loin chops, Greek chicken, and shrimp kabob.
Picciocchi's Pasta
100 Old Lackawanna Trail
Pasta chef Stefano Picciocchi was born and raised in Genoa, Italy, and moved to the Clarks Summit area in 2019 to share his passion for Italian cuisine with the people of northeastern Pennsylvania. He and his wife Kristy own and operate Picciocchi's Pasta, which specializes in fresh, homemade pasta using simple and authentic Italian ingredients. They make all the pasta fresh daily. Stop in Monday through Thursday from 9 a.m. until 8 p.m. and Friday and Saturday from 9 a.m. until 9 p.m.
The restaurant strives to make every pasta dish to the customer's liking, so it offers build-your-own pasta dishes. Choose from more than a dozen pasta shapes, nine pasta-filled noodles, and eight sauces. You can add meatballs to your dish, as well.
The eatery also serves a house or caprese salad, focaccia bread, and a baked pasta dish of the day. Don't forget to complete your meal with an order of tiramisu or homemade cheesecake. If you're hosting a business event or family gathering, consider using the restaurant to cater your party. All its homemade pasta and sauces are available by the pound.
Rosario's Pizzeria and Ristorante
100 Highland Avenue
Specializing in New-York-style pizza made with top-of-the-line imported cheeses, Rosario's Pizzeria and Ristorante provides customers with a full dining experience. Its menu also features entrees, pasta dishes, soups, salads, and homemade breads. Owner Rosario Bevilacqua grew up in the pizza business, and his entire family works in the restaurant industry, so he knows what it takes to operate a successful eatery. He uses only the best ingredients and does not skimp on quality to save on expenses. Head to this restaurant Monday through Saturday from 11 a.m. until 9 p.m. and on Sunday from 12 to 9 p.m.
Take one look at Rosario's menu, and you might feel overwhelmed by all the options. But don't worry — the extensive menu simply means you're sure to find something to satisfy your appetite. Start your meal with one of the many appetizers, soups, or salads, which include calamari, mozzarella sticks, vegetable minestrone, and Greek salad. From there, you have plenty of entree, pasta, wrap, hot sub, and panini options. Try the chicken piccata, baked cheese ravioli, buffalo chicken wrap, eggplant parmigiana, or broccoli rabe panini.
Of course, with pizzeria in its name, Rosario's offers an abundance of pizza choices. Check out the white pizza, which has ricotta, mozzarella, Romano, fresh garlic, and virgin olive oil. Its house special pizza has sausage, meatballs, pepperoni, mushrooms, peppers, onions, and extra cheese. One of the most popular pizzas is the Grandma, which has a thin layer of dough stretched into an oiled pan and topped with shredded mozzarella, crushed canned tomatoes, chopped garlic, and olive oil.
State Street Grill
114 South State Street
Billed as a restaurant and bar, State Street Grill is the perfect place to visit when you want to kick back and relax with your friends. Head into the eatery to enjoy lunch, Sunday brunch, or dinner. Its menu features fresh American cuisine with dishes for nearly any palate. The restaurant is open on Wednesdays and Thursdays from 11 a.m. until 9 p.m., Friday from 11 a.m. until 10 p.m., Saturday from 10 a.m. until 10 p.m., and Sunday from 9 a.m. until 4 p.m.
Depending on what time you arrive, you can view a menu catering specifically for that meal. The lunch menu includes grilled flatbreads, sandwiches, and salads. Try the vegan buffalo cauliflower Caesar salad, turkey burger, or mushroom flatbread. The brunch menu features many of the same lunch dishes but adds breakfast options such as eggs Benedict, an acai bowl, French toast, and pancakes.
You'll also notice similar dishes on the dinner menu, which includes entrees such as meatloaf, salmon, filet mignon, and a vegetarian option. If you're dining with little ones, the restaurant has a menu geared specifically for kids. They can enjoy chicken fingers, quesadillas, pizza, and salmon. Now that you're craving food from one of these Clarks Summit restaurants, what do you think of this list we created here at Northeastern Eye Institute? Did we highlight all your favorite eateries? If we missed a must-visit spot, let us know. We want to make sure our list features the area's best restaurants.