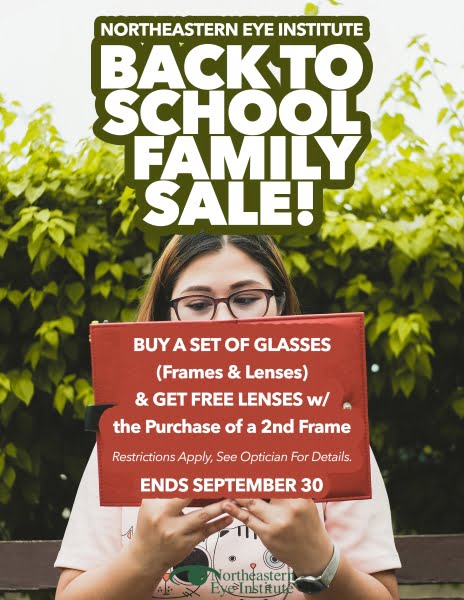 Take Advantage of Northeastern Eye Institute's Back to School Sale
School is starting up again, and it's a great time to make sure your children have their vision checked. According to the American Optometric Association, roughly 80% of what children learn in school comes from visually-presented information. As a result, your child's ability to see properly will play a crucial role in academic success this year.
At Northeastern Eye Institute, we're committed to making sure your children can see clearly, whether they are trying to see information presented on the blackboard or reading a book. That's why we're offering the following back to school family sale until the end of September:
Buy a set of glasses (frames and lenses) and get free lenses with the purchase of a second frame
Buy a year's supply of daily contact lenses and get free single vision lenses for your eyeglass frames
Schedule an appointment today to take advantage of this great offer.
Comprehensive Optical Services
The optical department at Northeastern Eye Institute can help with all of your eyecare needs. Take advantage of one of the largest facilities in the Northeastern Pennsylvania area:
45,000 square feet of clinical and office facilities
14 diagnostic testing areas
36 exam rooms
Surgical center
Over 250 highly trained and experienced staff members
During your child's eye exam, our opticians will check their vision and fit them for eyeglasses. If your child prefers contact lenses, they can choose from the leading and most popular options available.
In addition to a routine vision test, our opticians will perform a comprehensive evaluation to detect any other vision conditions which may need correction. This will ensure all issues are addressed in their earliest stages.
Eyewear for the Entire Family
Our optical department is equipped to address the needs of everyone in your family. We carry a wide range of eyeglass styles, including high end frames as well as affordable options, to ensure you can find a pair of glasses that is truly right for you. Choose from:
Revamped classic styles, including vintage frames with a modern twist
The most popular designer brands
Avant-garde frames that bring out your true personality
You can also adorn your frames with rhinestones and other materials that will provide your frames with a unique look.
In addition to a wide range of frames, you can choose from a variety of lens materials, including:
Plastic – Our most popular lenses, they are light and impact resistant
High index – Lighter and thinner lenses that work great for strong vision prescriptions and can be used with a wide range of frames
Polycarbonate – Our lightest and thinnest lens, they are an excellent option for children as well as for sport glasses
Protect Your Eyes from the Sun
Our optical department also carries an extensive array of sunglass options. Whether you are looking for everyday sunglasses wear around town or activewear for your favorite athletic activities, we have you covered. Choose from:
Designer sunglasses that reflect the latest styles
Casual sunglasses for everyday use
Action sunglasses that are durable enough to use in all your favorite outdoor activities
Prescription sunglasses in all styles
Contact our Optical Department
Take advantage of our back to school sale today! These deals are good through September 30. Our opticians can perform eye exams for you and your family, or you can simply come to one of our locations throughout Northeastern Pennsylvania to pick out new glasses and contact lenses for your current prescription.
Please contact Northeastern Eye Institute using the form on this page or call 855-204-6888 today to schedule an appointment. We have 15 locations conveniently located in Scranton, Wilkes-Barre and throughout Northeastern Pennsylvania.